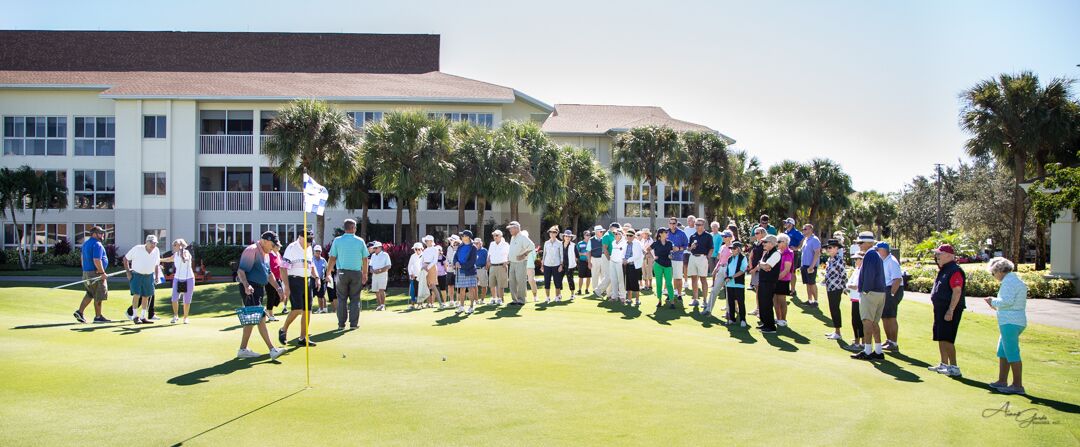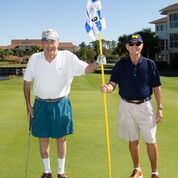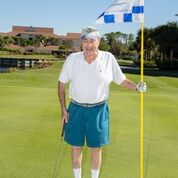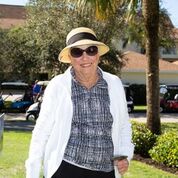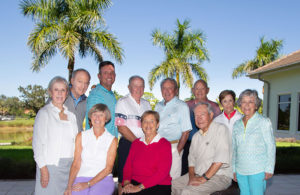 ---
DOLLARS for SCHOLARS Golf Tournament surpasses expectations and raises nearly $50,000.
On Friday, November 16, 2018, sixty-eight golfers participated in the second annual "Dollars for Scholars" tournament at Bentley Village. The golf scramble, co-sponsored by Vi at Bentley Village and the Bentley Village Foundation, included a ball drop, a fun putting contest and a hole-in-one contest on Hole #14 for a leased car sponsored by Mercedes Benz of Bonita Springs. Of special note…Dick Miller did have a hole-in-one, but it was on Hole #18!
Members of the winning teams in the four-person scramble were:
1st Place: Paul Donald, Pat Hoover, Phyllis Sharp & Mike Stanton
2nd Place: Cyndy Carlson, Dennis Landfried, Harlan Parish & Billie Porter
(FineMark National Bank & Trust)
3rd Place: Dave Courtney, Marcia Courtney, Brian Hitch & Janice Hitch
Thirty-six donors provided items for a silent auction held during the awards banquet and all items were purchased! A 50/50 raffle drawing capped off the evening. Paul Donald, with eyes closed, drew the winning ticket and announced the lucky winner.
"Today's event was exciting for both players and the spectators." said Marcia Courtney, Chair of the Tournament. "The generous support by sponsors insured that our fundraising event was a successful day for everyone."
All proceeds from the Tournament will support the Bentley Wings Competitive Scholarship Program and the Scholarship Endowment Fund. Since its founding in 2016, scholarships have been awarded to 30 Bentley employees and/or their dependents. This year new and renewal scholarships worth $89,000 will be made to recipients, bringing the total awards of the three-year old scholarship program to over $178,000.